Madeleine Vionnet:
Known as the 'Queen of the bias cut' Vionnet
reinvented the female form to combine effortless elegance with natural comfort. She had an architectural approach to fashion and discovered that cutting fabric crossways at 45
degrees to the direction of the thread the fabric would flow delicately around the body and follow the body's movements. Vionnet remarked herself that "When a woman smiles, her dress must smile with her". She abhorred the seasonal nature of trends and instead drew inspiration from Grecian legends and folklore which was translated through her free flowing goddess forms. To achieve her classical look Vionnet commissioned fabrics two yards wider than usual. Her preferred fabrics were crepe de chine, charmeuse and silk muslin. Her sculpting qualities were manifested in her use of small dolls to create her designs as oppose to sketches on paper. She preferred to be called a dressmaker than a fashion designer and although she revolutionised the female form she is a relatively disregarded figure in fashion. In comparison to other female designers Madeleine Vionnet is greatly unappreciated in her role as a 20th century fashion innovator.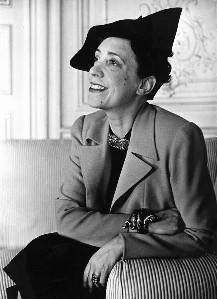 Elsa Schiaparelli
:

Schiaparelli changed the face of fashion by transforming pieces of artwork in to fashion. She blurred the lines between the two industries and presented herself as one of the most extravagant designers of the 20th century. She worked closely with Dadaist and Surrealist artists and experimented with synthetic materials such as latex, cellophane and glass fibre. She was the first designer to use a zipper in an haute couture dress in 1935. Although she was never qualified as a designer her collections were popularised as innovative and unique displays of textile creativity. Schiaparelli viewed fashion as an art form in its own right and inventive names for specific colours which featured in her collection which we use everyday including shocking pink, royal blue, wheat yellow and ice blue. She produced high waist, broad shouldered silhouettes in fabrics exclusively designed for her by artists such as Dalí and Picasso. After the war however Schiaparelli failed to get her career running again and fashion rejected her quirky style.